Who would have thought that such a simple design for a chair would turn out to be so popular?  As it turns out, moon chairs are absolutely wonderful for relaxing, reading a book, or watching TV.  Although they aren't the fanciest looking chairs in the world, they sure are comfortable.  Despite their casual appearance, you can get a moon chair in any number of designs.
Additionally, there are moon chairs that are designed specifically for adults, or a smaller one meant for children.  You might have heard these chairs called by another name, but they are all the same.  Other names include the saucer chair and the sphere chair.  All three of them are named after their cool shape.
Our Most Popular Moon Chairs
One of the best things about these chairs is that you can fold them up and store them in the closet if you want.  As for cleaning, some moon chair covers can come off easily, and some can't.  You will need to check with the manufacturer before buying to see if yours will come off.  This is an important factor, since eventually the fabric cover will get dirty and need washing.  It is a lot simpler if you can just remove it and toss it into the washing machine. Try doing this with a normal chair!  As for buying these chairs, if you try shopping at a local store, chances are that you will only have a couple of options.  Shopping on the internet, on the other hand, will allow you to choose from any of the dozens of styles that are made from various manufacturers.  Let's take a look at some of the most popular moon chairs that are available.
Moon Chairs for Adults
Although many people picture kids sitting on moon chairs, there are actually plenty of moon chairs for adults.  As you might have guessed, the ones designed for adults don't usually have crazy cartoon pictures on them, and most of them are in darker, toned-down colors.  You can get a large moon chair in the following colors:  brown, black, pink, green, teal, blue, and camouflage.

A company named Tofasco makes a large moon chair that has a different kind of cover on it. Instead of a smooth fabric cover, theirs is corduroy, which in my opinion kind of adds to the comfort.  Their chairs are plenty big enough for adults to sit in, and the sturdy steel frame has a weight limit of 250 pounds. The corduroy version is called a fuzzy moon chair, because of the fabric.
Due to their light weight and fold-up convenience, many people actually take an adult moon chair with them camping, or use it outside on the patio or lawn.  They are actually cheaper than a lot of camp chairs and after a long day outside, it feels great to be able to relax in one of these chairs and recline, instead of hunching over on a wooden bench or log!  The famous outdoor company, Cabela's makes their own version for outdoor use.  Cabela's moon chair has a camouflage patterned cover, and a few extra perks that other chairs like this don't come with.  For one, it has a padded seat, and in the upper part its headrest has a built-in pillow.  If you don't care about what company made it, you can just get a cheap green moon chair or something like that for about $40.
If you are looking for moon chairs for teens, they are pretty much the same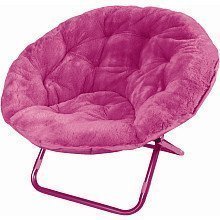 ones as those that you would buy for adults, since kids grow up so quickly during these years.  If you are looking for a present for your teenage kid, large moon chairs are great for a few reasons.  First, they are inexpensive, so if they get trashed, you can just toss it and get a new one after a few years.  Second, they are perfect for just hanging out, which seems to be what teenagers do best!  The only difference is probably going to be in the color.  Teenage girls will probably like one of the brighter colors like pink or teal for their room.
Moon Chairs for Kids
Children especially love moon chairs, and if you get one of them for your kid, I can guarantee you that they will log some serious hours sitting in it.  Chances are they will fall asleep in there too.  The good thing about moon chairs for kids is they come in colors and styles that children love.  It doesn't matter if you have a boy or girl, there is surely a design that will suit them.  Here are some of the most popular ones:
Disney Cars Moon Chair:  This one comes in two different styles
Pirates Moon Chair
Star Wars Moon Chair
Diego Mini Moon Chair
Shrek Moon Chair
WWE Wrestling Moon Chair:  Perfect for the older boy who loves wrestling!
Shrek Moon Chair
Pretty much all of these chairs come with their own little carrying case, and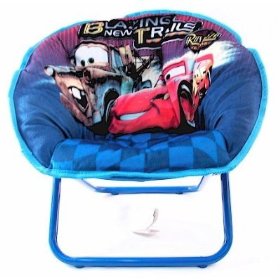 they fold up nicely so you can take it with you.  These are great for when your toddler needs a nap at the park, the beach, or whenever you are away from home.  Alternatively, use it in the living room for a perfect place for your little guy to enjoy some quiet time. Pretty much all of these saucer chairs for boys cost between $20 and $30.  The exception is the Star Wars version, which costs a little more.

Disney Princess Moon Chair
Bratz Moon Chair
Tinkerbell Moon Chair
High School Musical Moon Chair:  Great for older girls
Dora Moon Chair
If your little girl needs her own special place to sit, do both of you a favor and get her one of these.  The pictures on these saucer chairs for girls will make her feel special and she will enjoy reading and relaxing in her own special place.  Like the boys chairs, all of these saucer chairs for girls cost between $20 and $30, and can be found on the internet easily.
If you have seen one of those huge, oval shaped chairs before, you probably didn't even need to sit in one to know that they are very comfortable.  Otherwise known as a Papasan Chair, these are hands down some of the most comfortable chairs that you can take a rest in.  They are great for certain uses, but not for everything.  Let's take a more in depth look at Papasan Chairs and the best ones that are available.
One of the things that makes Papasan chairs so great is there size.  You can find moon chairs and other similar shaped seats in various sizes, but the simple truth is that the bigger the chair you get, the more comfortable it is going to be.  Many people try to get something too cheap and end up with a chair that is too small for them.  Believe me, if you get a full size Papasan Chair, you will be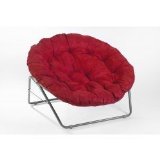 able to sit back, rest your entire body and head, and truly relax in a way that just isn't possible with other rigid chairs.  The second feature that sets these large papasan chairs apart from others like them is that they have luxuriously soft cushions.  Cheaper chairs will have lower quality cushions, and although they will satisfy some people, if you really want to feel the softness of a chair like this, you need to get one with a thick and soft cushion, such as a microfiber papasan chair.
Types of Papasan Chairs
It can be a bit confusing sometimes when shopping for one of these chairs, since they are called a lot of different names.  Regardless of the name though, the chairs are essentially one and the same.  The important thing to remember is that you need to make sure the chair is both big and comes with a comfortable cushion.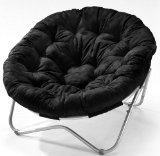 The best choice around is called the Roundabout Chair, which is the exact same thing as a Papasan.  These chairs are a full 3 ½ feet wide, and come with a nice, microfiber cushion. They come in your choice of three colors, red, black, or cocoa, which is a light brown.   A chair like this is meant for either indoor use or for the patio, but remember that they need to be kept out of the rain.  If you are looking for a moon chair that you can just leave in your backyard without worrying about it getting wet, you should get a standard folding moon chair.  They don't have such a soft cushion, but they are pretty much water resistant.
The next type of Papasan chair is made of wicker or rattan.  Wicker papasan chairs are one of the best looking chairs that you can get, and look really nice almost anywhere, from your patio to your living room.  They are a bit hard to find though, since people often search for wicker moon chair or a wicker saucer chair but come up short.  The good news is that you can get them here.


If you are looking for something a bit more inexpensive, your next best option is to go for a sphere chair, which costs only around $40, is almost as large as the ones mentioned above, and has a decent cushion as well.  The great thing about these large sphere chairs is that they come in lots of cool colors.  The pink sphere chair is the most popular for girls, and the green and black ones are great for the guys.
Papasan Chair Cushions
If you already have a frame and want to get a new cushion for it, there is a great company called Blazing Needles that makes really nice Papasan chair covers in many different sizes and colors.  Some people have a wicker sphere chair that needs a replacement papasan cushion for it.  You can Find the Cushions Here
, in all sizes from single to a double papasan chair, and in different colors.
Although most people are familiar with sphere chairs and others like it, there is one type that is much bigger and more comfortable.  These chairs go by many names, and their shape usually has something to do with what they are called.  Moon chair, sphere chair, dish chair, or saucer chair, they are all variances on the same type.  What definitely does matter though is the size and softness of the chair, and this is the area that sets the great ones apart from the ordinary ones.  One of the best kind that you can get is called a roundabout chair.  Here is what you need to know about them: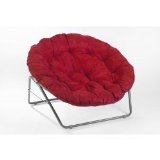 Roundabout chairs are pretty big.  They are big enough to really sit back and relax in without feeling cramped.  While the smaller sphere chairs are fine, there really is a big difference with these large roundabout chairs.  From side to side, it measures almost four feet across, which is plenty big.  The frame is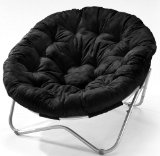 made out of lightweight, but sturdy metal and is built to support the weight of up to 250 pounds, which is enough to hold most people.  Despite their size and construction, these chairs are actually pretty lightweight, which means that you can easily pick it up and move it around if need be.
You can get a roundabout chair in 3 colors:  red, black, or cocoa.  Although you might see them for sale at a store once in a while, the best place to get one is still Here on Amazon.com
.  The reason is because you can compare models and buy one from whoever has the best price.  The prices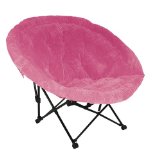 of the best kinds of roundabout chairs are usually in the $125 range.  If that is simply out of your budget, take a look at these wide wale saucer chairs, which cost less than $40 and are pretty much the same size.  These are actually the most popular type, because pretty much anybody can afford one and they fit perfectly into a small apartment, kids bedroom, or dorm room.  The other good thing about them is that they are available in lots of cool colors like green, pink, red, and blue, in addition to the darker ones mentioned above.  See the picture on the left and  Take a Look at all of Them Here.
Outback chairs are basically suspended chairs.  They are typically swing sofas that enhance the look of a certain room.  Perfect for patios and vast expanses of foyers, an Outback chair takes modernity in furniture to the next level.  The concept is exceptional and charming as we have been accustomed to the usual sofas taking up a great amount of floor space.  This floating seat does away with the ground eating charismatically that one is enough to sate the taste of the fine furniture lover.
The Outback company markets five basic hanging chair designs, which range from hammocks to luxurious hanging caves.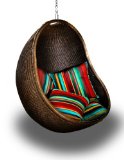 Surprisingly, these chairs have a price range of between 100 to 2000 dollars.  Some of the simpler designs are pretty inexpensive, and the elaborately hand crafted outback chairs cost quite a bit more.  If in case there is a fantasy of having the coolest chair in the world swirling around your mind, you should take a look at the Urban Balance Cove Hanging Chair.  It is shaped like a cocoon, and is perfect for lounging in the garden or on your deck.  You can toss pillows in to make it extra comfy, and the shape of the outback cove chair blocks the wind, making it comfortable on chilly days.  The cheapest among the choices is the Outback Charleston Rope Chair, which is sort of like a hammock and hanging chair combined.  You sit up a little higher in it, which is great.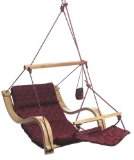 If you want something that looks a bit like a porch swing, take a look at the Outback Lounger Chair.  This chair is made out of hardwood and has waterproof fabric.  It is made to be hanged from either a tree or a roof beam, and can hold 350 pounds.  Take your pick of any of the 4 colors:  green, burgundy, camo, or beige.  Worried about it breaking?  This chair comes with a 10 year warranty, which is pretty generous among chair companies.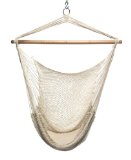 The Charleston rope chair is a 100% white cotton hammock type seat that goes for about $110.  The design would be absolutely perfect for eliciting the beach feel in one's patio or backyard.  A pool area would be just the right puzzle piece to complete the equation.  White is a very universal shade that blends really well with the rest of the environment.  Never be bothered with the unsupported fabric as it is proven to have a weight limit of 250 pounds!
If you are looking for a hanging chair to put on your patio, you really should consider an Outback Chair.  Though there are cheaper options available, this company produces some of the best looking hang-out furniture, hands down.  Cheap immitators can't even come close to what Outback Chairs accomplish, although a really nice moon chair can come close sometimes.
Let's face it, when it comes to moon chairs, bigger is definitely better. While there are plenty of cheaper chairs available, you have to watch out for them sometimes because they tend to be too small to be really comfortable. If you haven't seen one of the really large sphere chairs, you really should. The next time you are in a large department or furniture store, look for one of them and sit down. The bigger the chair, the more comfortable it is going to be. In addition to the size, the cushion makes a difference as well. A quality chair will come with a luxuriously soft cushion.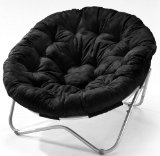 There are a few different companies that make king-sized large moon chairs. One of them is called Directions East, which has some of the best models to choose from. The dimensions of these chairs are 31 inches high, 42 inches wide, and 36 inches deep. If you are having a hard time conceptualizing these numbers, it is more than three feet across, which is quite big. The good thing about the Directions East chairs is that their microfiber cushions are very soft. You can choose from red, black, beige, or another color. Of course, getting a chair that is this big and comfortable means that you will need to pay around a hundred dollars or so. This is actually a fair price, because these large moon chairs look so great that you can put one or two of them right in the living room and they won't look out of place. In fact, they will probably be the seat that visitors head for first.
If you don't want to spend that much money on a moon chair, there are cheaper options as well. For around $40, you can get a large saucer chair from a company called Tofasco.  They are actually a little bit bigger than the chairs mentioned above, but they aren't constructed as well.  If you only want to spend a little bit of money, they should work fine, but they don't look or feel as good as the more expensive chairs.  The biggest reason  for this is that the cushion is made out of foam instead of microfiber, which makes a big difference.  Nonetheless, it is a solid chair that should work fine as long as you don't have children climbing on it all day!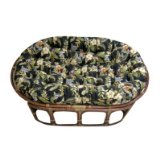 If you are looking for something designed to be used outside, take a look at the chairs made by a company called Blazing Needles.  They make a large wicker moon chair that is made for outdoor use.  These chairs are so big that they are meant for two people to sit in, like a loveseat.  Unlike most of the other moon chairs, the base is made out of durable wicker, which looks nice on a patio or backyard.  As far as the cushion goes, it is really plush and soft as well, made out of quality materials.  You can even choose the color and design of the cushion from the dozen or so choices they have available.
Although there are definitely plenty of cheap moon chairs around, there are some very nice ones on the market as well.  While one of the cheaper models might look fine in a teenager's bedroom or on the patio, many people are reluctant to use them in the living room for fear of detracting from the ambiance.   The truth is that there are some moon chairs that will look absolutely stunning pretty much anywhere you put them.   Let's take a look at what sets these chairs apart.
The first thing that you should know is that these chairs often have a different name, although the shape and design is the same.  Depending on the manufacturer, they may be called round chairs, papasan chairs, roundabout chairs, or even oval chairs.  Regardless of the name, they all share the same basic design structure.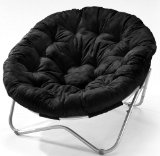 There are three things that set high quality models apart from their cheaper counterparts:  Size, comfort, and style.  As far as size goes, when you are talking about moon chairs bigger is definitely better.  A large moon chair will allow you to stretch out more, put your feet up, and completely sink in.  The smaller models may be great for folding up and taking on the road, but they just aren't as comfortable.   The largest moon chairs are nearly 4 feet across, which should be plenty wide enough to settle into.
Arguably the most important thing that a moon chair should have is a nice and soft cushion.  Portable camping models don't even come with a separate cushion at all, so they shouldn't even be considered if your main concern is comfort.  High end papasan chairs usually come with a really soft, microfiber cushion that is removable.  There is only one way to find out which chair is the most comfortable, and that is to try them out.  Even if you are going to shop around and perhaps buy one on the internet, it is wise to test some chairs out at a department store first.  High end furniture stores might not carry these chairs, but a store like Ikea most likely will.  The big box stores like Wal-Mart may have some as well, but the quality might be inferior.
If you are going to have your moon chair sitting in the living room, you should definitely choose one that looks stylish.  Although the colors in your sitting area may vary, it is likely that either a red, black, brown, or tan chair will fit in nicely.  Red seems to work well if you have white or black sofas and other furniture, and it gives the room a bit of color.  Likewise, a black moon chair will offset white couches nicely.  If you want to go with a more neutral color that blends in more than it sticks out, you might want to consider light brown.
Expect to pay somewhere in the range of $100 or more for a designer moon chair.  While this may sound expensive the truth is that these quality chairs are a bargain compared to loveseats and other lounge furniture.  In addition, they will last quite a long time and are easier to clean.  Take a look at some of the best ones here.