Let's face it, when it comes to moon chairs, bigger is definitely better. While there are plenty of cheaper chairs available, you have to watch out for them sometimes because they tend to be too small to be really comfortable. If you haven't seen one of the really large sphere chairs, you really should. The next time you are in a large department or furniture store, look for one of them and sit down. The bigger the chair, the more comfortable it is going to be. In addition to the size, the cushion makes a difference as well. A quality chair will come with a luxuriously soft cushion.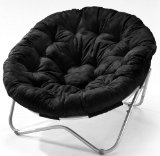 There are a few different companies that make king-sized large moon chairs. One of them is called Directions East, which has some of the best models to choose from. The dimensions of these chairs are 31 inches high, 42 inches wide, and 36 inches deep. If you are having a hard time conceptualizing these numbers, it is more than three feet across, which is quite big. The good thing about the Directions East chairs is that their microfiber cushions are very soft. You can choose from red, black, beige, or another color. Of course, getting a chair that is this big and comfortable means that you will need to pay around a hundred dollars or so. This is actually a fair price, because these large moon chairs look so great that you can put one or two of them right in the living room and they won't look out of place. In fact, they will probably be the seat that visitors head for first.
If you don't want to spend that much money on a moon chair, there are cheaper options as well. For around $40, you can get a large saucer chair from a company called Tofasco.  They are actually a little bit bigger than the chairs mentioned above, but they aren't constructed as well.  If you only want to spend a little bit of money, they should work fine, but they don't look or feel as good as the more expensive chairs.  The biggest reason  for this is that the cushion is made out of foam instead of microfiber, which makes a big difference.  Nonetheless, it is a solid chair that should work fine as long as you don't have children climbing on it all day!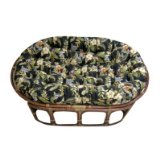 If you are looking for something designed to be used outside, take a look at the chairs made by a company called Blazing Needles.  They make a large wicker moon chair that is made for outdoor use.  These chairs are so big that they are meant for two people to sit in, like a loveseat.  Unlike most of the other moon chairs, the base is made out of durable wicker, which looks nice on a patio or backyard.  As far as the cushion goes, it is really plush and soft as well, made out of quality materials.  You can even choose the color and design of the cushion from the dozen or so choices they have available.